I've started this: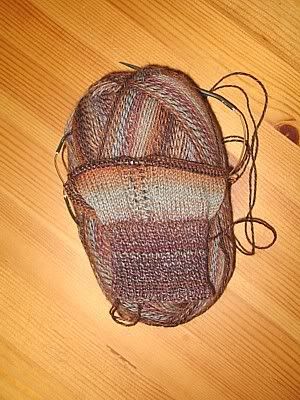 It's a Trekking XXL glove, color 101. I picked up some of this yarn at All About Yarn, a LYS in my town with a huge selection of yarns. I don't love the way the colors change on this as much as the Manos mittens. The color sections are longer. I alternated b/t two balls every row for the cuff, but started the body in only one ball. So we'll see how my little experiment goes.
On the top of the hand, I'm doing a simple K1, yo, sk2togpsso, yo, k1 up the middle. It looks much better on my hand, but I couldn't get a good pic of it.
This post
reminded me of what happened yesterday at work. I was knitting in the break room and one of the ER docs comes in.
"oh, circular needles!"
"You know something about knitting??"
"oh yeah, I used to do it years ago when I was quitting smoking."
:)