Complete!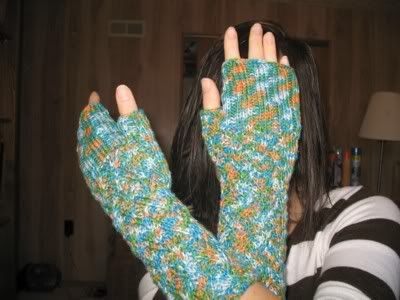 Better stitch definition and color, taken when I wasn't in a rush.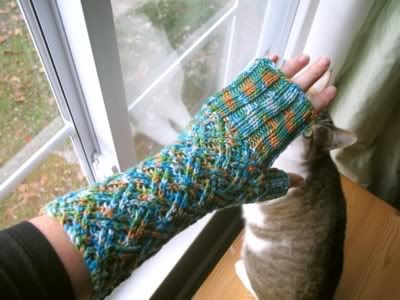 Yarn
: Madil bamboo #039
Pattern
: my own. It's a big tube of double lattice that branches into a big tube of k3p2 rib and a small thumb-sized tube of k3p2 rib :p
Misc
: I wanted a stitch that looked woven, b/c that seemed to be what would fit with the bamboo. This is my first experience with bamboo, which I love. I tried 2 types of basketweave, several crossed lattice-type stitches. This one looked far superior to the rest.
The only change is that I would have knit lattice the entire length, but I only had two balls (used completely), I'm tall (my hand and forearms are longer than yours :p), and I'm impatient. All the better for planning the next set.
I've updated the FO's column. Fairly sure I forgot it existed...