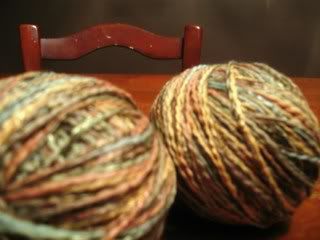 Yarn: A
utumn House Farm Sagamore Hill
Color: Mosses and Mushrooms, 2 hanks, 320 yds total
It's a silk, rayon blend that I had to have at the store. Again, I go to buy 2 balls of Cashmerino Chunky (b/c I'm short for the baby blanket) and I come out with this.
I'm very excited about it because a) it's pretty and b) it's nothing like what I normally buy. I love anything rich, vivid or jewel toned, whereas this is more muted. I've never met a shade of teal I didn't like. This reminds me a little more of the inside of sea shells than of moss and mushrooms.
I'm thinking a mini Clap. Or some other simple wrap/drape. I don't want to get too detailed in the stitch pattern with this.
CUTENESS ALERT!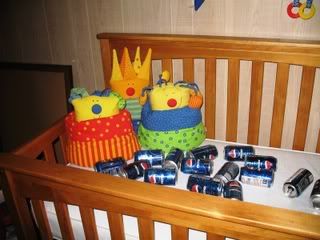 I refuse to have an easter pastel colored nursery simply b/c we don't know the gender of this baby. I love these little guys. Actually, I love most everything Haba or Oompa Toys.
(empty Pepsi cans make a great cat deterrent. Krusty hasn't jumped in once since I added these. Don't worry, I'll remove them before the baby comes. And the linens.)